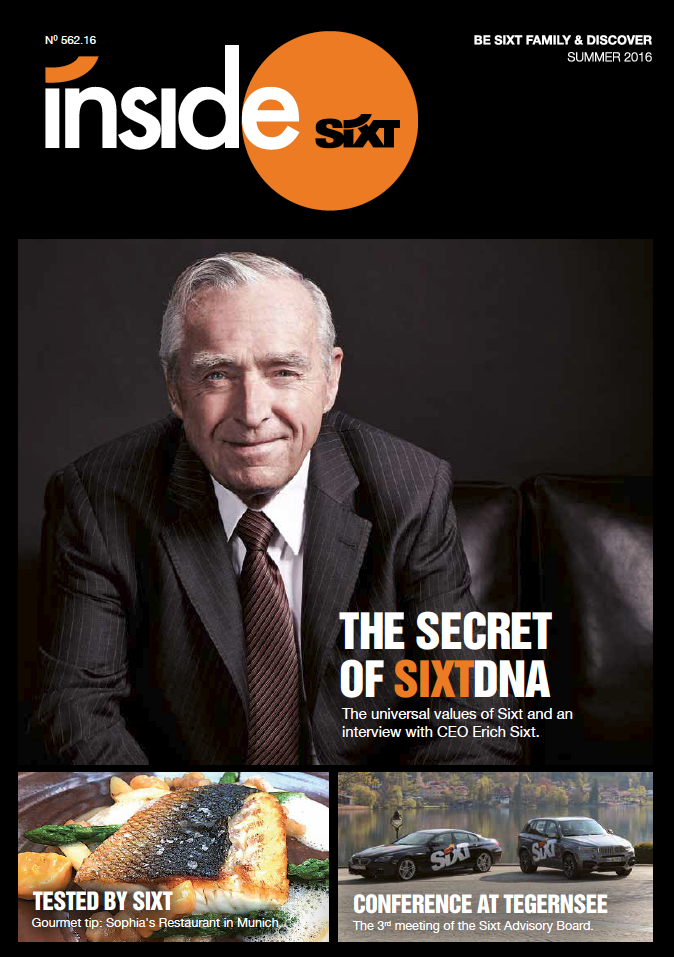 Mitarbeitermagazin: insideSIXT. Sommer 2016
Mitarbeitermagazin insideSIXT Sommer 2016 / Employee magazine insideSIXT summer 2016
Das Mitarbeitermagazin "insideSIXT – Be Sixt Family & Discover" erscheint in Sixt Ländern rund um den Globus / Employee magazine "insideSIXT – Be Sixt Family & Discover" is published in Sixt countries all over the world 
Mitarbeitermagazin: Neben Berichten und Reportagen aus den Ressorts wie SixtWorld, SixtFamily oder SixtMarketing wird auch immer über neueste Projekte der Regine Sixt Kinderhilfe Stiftung berichtet, die die Sixt-Mitarbeiter aus aller Welt unterstützen. / In addition to reports from the editorial departements as Sixt World, Sixt Family or Sixt Marketing is always reports on the latest projects of the Regine Sixt Children's Aid Foundation that support the Sixt staff from around the world .
In der aktuellen Ausgabe von einem Township-Projekt in Südafrika / In the current issue of a township project in South Africa:
"The beginning of a better future for the "Dinoko" day care centre in the densely populated township of Zandspruit in Johannesburg. Thanks to the support of the Regine Sixt Children's Aid Foundation, ground will be broken at the end of July for the construction of a new day care centre for 85 children. 
Instead of the existing shacks that are unbearably hot in the summer and zero degrees in the winter, thanks to "Drying Little Tears" the Dinoko day care centre will have a newly laid brick building with well-ventilated and insulated rooms and enough toilets and learning and play equipment for the children. For the third time Stiftung JAM Schweiz is the project partner for the Dinoko day care centre after renovating the RiseUp nursery in 2014 and Mahou in 2015.
The Dinoko ("A small animal with horns") day care centre is located in the densely populated township of Zandspruit. Here, 85 children are poorly cared for on extremely small premises. They may have a roof over their heads but it constantly leaks and in the hot summer and cold winter months there is no point in even thinking about playing and learning. There are currently four classrooms and a small kitchen. The premises are small and typical for this densely populated township. Therefore, there is no space for a garden and playground to play outdoors. There is only one toilet used by adults and children alike and it has no door. Everyone is looking forward to the start of the building and renovation work and in addition to the support from the Regine Sixt Children's Aid Foundation, many employees from Sixt South Africa will be helping and tackling the building work this summer.
We will report on the project's progress in Sixtbook and on our website at www.regine-sixt-kinderhilfe.de"